VL BOYS – Lyrics
Oboma
Ndeku mona wimwenene
I approached you to be your entertainer
Owali wahanduka
Ndali ndishi otonuka
Then I spit my game yitoye wafosuka
Owatemeka toyolo
Kudjapo weya mekolo
Straight to my place
Set u on blaze
Pretty baby face
In my mind da whole days
Obumunage ngewatulako mwila
Nge wuli name inopumbwa kutila
I'm not a love killer
I'm a love healer
So kakadona anditi ila
Shashi ove ndakala andidiladila
Verse 2
Tripogee's Verse
Eyes handshake do not lie
Haters always pretend when they pass by
As if they love you, look them straight in their dirty eyes
They be hoping you're the one who dies
Bit of advice, skit douf, meta in fact for you who are they to criticize
Inoyononkalamyvenyo yoye met 'n stombie
Been there, done that, voices of Lucifer, I refuse to be a zombie
Hardegat soos 'n damara ndafonkwambi
Ino shindandje otwetonyama kokambi
And by the way good luck for swapo and rdp
We shall see, olyetakavenenekopi
Qonja – Lyrics
Qonja – Ovili
1 Verse
My time is tickin'
It's short and I have 2 make the ryt move
Ek kyk trug va' va af kom ek
Kyk huur otwa shenjela mojeke
Mango kabobkarta keli valid
Sweetie pie inoya kokule
Ondina okambusnesa kawa kawa
Takapu paife she tuye tukavelele
Pinimayi yiliwga hupu
Nokukonjaifa luhapu akutungu
Oto patina name
Hou op maan bra skap jy ken moes
Is konzlela wat nou praat
Onu womlumenu owuhole ngoyi
Emwengu kashona nande
Ngeno shapupwala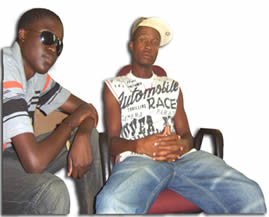 Biography of Exit and Mushe
Mushe, born Albert Ulenga, was born in the Angolan town of Lubango in 1984. He lived there for 5 years before moving to Namibia, both his parents' country of origin. In 2000 Mushe moved to Windhoek and enrolled at Immanuel Shifidi Secondary school in grade nine (9). During his high school years, Mushe and his friends developed a love for music and started performing at school events, using international musician's instrumentals

and imitating rappers such as Tupac Shakur, LL Cool J as well as Shikololo, who was then the only successful local Hip Hop artist at the time. In 2007 he met Exit.
The 7th of April 1989 saw the birth of Shikalepo David who would grew up to become "Exit", one of the country's freshest, most talented artists. Born in Oshakati, Exit grew up in Oshakati, attending school in and around that vicinity from lower primary until he finished his high school career with exceptional grades.
In 2007 he moved to Windhoek to pursue his BAMS (The media laws) degree at the University of Namibia (UNAM). It was then that he met Mushe, an experienced, up and coming local producer/artist with a studio in Katutura. Exit joined Mushe's "2-tight" Hip-Hop crew and they set off to work on some potential classics –Exit and Mushe was born.
They changed their genre from pure Hip Hop to a fusion of Hip Hop and Kwaito, creating a unique sound that warmed fans the country-over. Their first performance was at the annual Ongwediva Trade fair in the northern town of Ongwediva. They landed under the management of Blend Productions and within weeks they were in demand, performing at various events, sharing the stage with established artists such as PDK, Gazza, The Dogg, Killa B, Max, D-naff, Gal level, Sonny Boy, Phura just to mention a few. They also wowed the crowds at Max's and PDK's CD launches, both at Bernie's Entertainment Park in Ongwediva. Their combination video for the singles "(Olye ekulonga) Okwiimaba"; and "Lets get down to business" are receiving major air-play on Namibia's leading TV stations. Another one of their singles, "Oka-styla" is burning up the hearts of many fans country-wide.
With only a few months in the industry, this bundle of young talent is set to warm the Namibian music industry for many, many years to come "…now let's get down to business".
.